Share this URL: http://gourmet-tour2016-5-28.peatix.com
Event is FINISHED
5/28 (PM) Best of Japan Gourmet Tour
(ベストオブジャパン・グルメツアー)
Our International Concierges will guide you through Tokyo's Nihonbashi. Small gift and samples included!
Special price of ¥1,000 on Saturday afternoons only!




※日本語説明はページ最下部をご参照ください。


We invite you to join us as we travel our way across the country on the Best of Japan Gourmet Tour in COREDO Muromachi. From the North to the South, we will visit ten cuisine-related merchandisers, learning about the famous products of each region and delving into the unique history of the shops. With a number of gourmet samples and hands-on-experiences, you can be assured that your participation in our tour will be an engaging and exciting experience

Tour Details
Date: Every Saturday
Time: 3:30pm - 5:00pm (Please arrive 10 minutes early to sign-in)
Price: Adults ¥1,000 / Children aged 6-12 ¥500 (tax included)

Participants: 2-8 people
Meeting Point: Nihonbashi Information Center (COREDO Muromachi 1, B1) 【Map】
Tour Contents: English guided tour of the COREDO Muromachi 1, 2, and 3 shopping complex
Reservations: Accepted until 15 minutes before the tour starts
Inquiries: Tel. 03-3242-2334 (10:00am - 7:00pm)

※ If you would like to request a tour on a date/time not listed above or in a language other than English, please contact us at least three days in advance for alternative arrangements.


※

Please contact us directly if you would like to request a reservation for a child (6-12 years old). Children's tickets can be paid for at the Nihonbashi Information Center on the day of the tour.

※

If you are interested in joining both the Best of Japan Gourmet Tour and the Culture Experience Tour, please be aware that some shops are included in both tours. We therefore recommend making a custom program with highlights from both tours. Please contact us directly for details.
Tour Route
1. Okui Kaisedo (Fukui Prefecture, Kelp)
2. Hakuza Nihonbashi (Ishikawa Prefecture, Gold Leaf)
3. Ninben Nihonbashi Honten (Tokyo, Dried Bonito)
4. Imoya Kinjiro (Kochi Prefecture, Sweet Potato Snacks)
5. Hakkaisan Sennen Koujiya (Niigata Prefecture, Amazake)
6. Kakiba Hokkaido Akkeshi (Hokkaido, Oysters)
7. Qjiki (Kagoshima Prefecture, Fried Fish Cakes)
8. Tsuruya Yoshinobu (Kyoto, Japanese Sweets)
9. Yamada Heiando (Tokyo, Lacquerware)
10. Hashicho (Japan, Chopsticks)
About the Nihonbashi Information Center
Concierges at the Nihonbashi Information Center provide up-to-date information about the Nihonbashi, Tokyo area, including information about historical shops, sightseeing spots, and town events. The Information Center also includes the Takumi Shop, where you can buy products from Nihonbashi's historical shops, and the Ippin Cafe, where you can leisurely enjoy Japanese tea and more. It's the perfect starting point for exploring Nihonbashi!
COREDO Muromachi 1 B1, 2-2-1 Nihonbashi Muromachi, Chuo-ku, Tokyo
TEL: 03-3242-2334 (10:00am - 7:00pm)


Access:

●Direct access from Mitsukoshimae Station
 -1 min. walk from Tokyo Metro Ginza Line, Mitsukoshi Gate
 -2 min. walk from Tokyo Metro Hanzomon Line
●5 min. walk from JR Sobu Line (Rapid), Shin-Nihombashi Station (direct access)
Facebook:
www.facebook.com/nihonbashi.information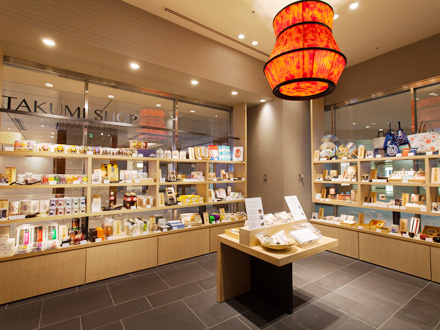 ***********************
日本橋案内所では、外国人コンシェルジュによる英語でのガイドツアーを 実施しています(事前申込制)。試食サービス&プチギフト付き。
日本古来の伝統文化を受け継ぎながら、革新を続けている東京・日本橋。コレド室町には、北は北海道から南は九州まで、日本各地のさまざまな名品を取り揃えています。毎週土曜日には、日本の伝統的な食文化を知り、実際に試食もできるツアープログラムをご用意。 所要時間は約90分程度、旅行や出張の合間でも気軽にご参加いただけます。
Tour Details
日程: 毎週土曜日
時間: 15:30-17:00 (開始10分前までにお越しください)
人数: 2~8名
料金: 大人1,000円 (税込) /12歳未満 500円 (税込)
集合: コレド室町1 地下1階 「日本橋案内所」
内容: 外国人観光・旅行者を対象とした、コレド室町1、コレ ド室町2、コレド室町3の各店舗の英語ガイドツアー(プチギフト付き)。
予約: ツアー開始時間の15分前までに受け付けしております
※上記と異なる曜日・時間帯を希望される場合は、希望日の3日前までにご相談ください。また、英語以外(日本語除く)でのツアーも可能です。お申し込みの際にご相談ください。
※小学生未満のお子様のご予約に関しては事前にご連絡ください。子ども料金は当日、日本橋案内所でお支払いください。
※
「
Best of Japan Gourmet Tour
」と「
Culture Experience Tour
」には、一部同じプログラムが含まれています。双方のツアーへの参加のご希望の場合、事前にお知らせいただければ、カスタムツアーを組むこともできます。詳細はお問合せください
。
Tour Route 
1. 奥井海生堂(福井/昆布)
2. 箔座日本橋(石川/金箔)
3. にんべん日本橋本店(東京/鰹節)
4. 芋屋金次郎(高知/芋菓子)
5. 八海山千年こうじや(新潟/甘酒)
6. 牡蠣場北海道厚岸(北海道/牡蠣)
7. 玖子貴(鹿児島/さつま揚げ)
8. 鶴屋吉信(京都/和菓子)
9. 山田平安堂(東京/漆器)
10. 箸長(全国/箸)
日本橋案内所について
東京・日本橋地域の「街の案内所」としてコンシェルジュが常駐し、老舗店舗、観光スポット、街のイベントなどの情報をタイムリーに提供。また、日本橋の老舗商品が一堂に会する「TAKUMI SHOP」や、日本茶等がお楽しみ頂けるカフェスペース「IPPIN CAFE」も併設。街めぐりの拠点としてご利用いただけます。


住所:日本橋案内所 東京都中央区日本橋室町 2-2-1 コレド室町1 地下1階
TEL:03-3242-2334(10:00-19:00)
最寄駅:
・東京メトロ銀座線「三越前」駅 「三越方面改札」出てすぐ
・東京メトロ半蔵門線「三越前」駅(直結・徒歩2分)
・JR総武線快速「新日本橋」駅(直結・徒歩5分)
Facebook:
www.facebook.com/nihonbashi.information
read more
Sat

May 28, 2016
3:30 PM
-
5:00 PM
JST
Add to Calendar
Venue
Tickets

Ticket (Adult)

SOLD OUT

¥1,000

Ticket (12 and under)

SOLD OUT

¥500
Venue Address

COREDO Muromachi 1 (B1), 2-2-1 Nihonbashi Muromachi, Chuo-ku, Tokyo(東京都中央区日本橋室町2-2-1

コレド室町1 地下一階)

Japan
Directions

Direct access from Mitsukoshimae Station (Tokyo Metro Ginza / Hanzomon Line)